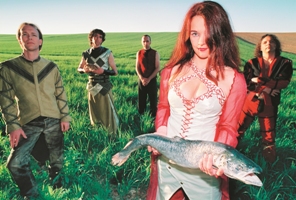 GERMAN MEDIEVAL ROCK
Adaro existed from 1996 to 2006. The band was part of a musical genre which took inspiration from medieval times in songwriting, lyrics and instrumentation. Adaro used Middle High German lyrics (12th–14th century) by Walther von der Vogelweide, Gottfried von Neifen, Ulrich von Winterstetten but also lyrics from late medieval centuries for example by Oswald von Wolkenstein, Hans Sachs, Giovanni Boccaccio, Jakob Thurner, Reinmar von Hagenau, and they wrote their own unique music in addition. The music is a mixture of Rock and Folk. The instrumentation is a combination of common rock gear like electric guitar, drums, bass, with medieval instruments like hurdy-gurdy, crumhorn and bagpipes.
They made three full length studio albums, played about 250 concerts, wrote a little more than 50 songs, had four appearances on TV, and have at least one prominent fan (Ritchie Blackmore who did send a fax to the band to congratulate them for their fantastic music).
Discography: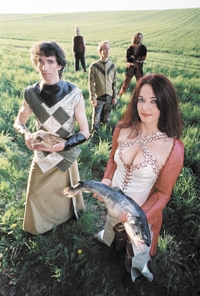 - Stella Splendens (1997)
- Words Never Spoken (1999) 4 tracks
- Minnenspiel (2002)
- Schlaraffenland (2004)
- Words Never Spoken Extended Edition (2004) 18 tracks
Book:
"Das Geheimnis um Adaro" by Lara Mari Belisaba-Baron, 2001
Line-up (as on the photo from left to right =>)
- Christoph Pelgen - vocals, bagpipes, crumhorn, recorders, bombarde
- Dr. Biel - drums, percussion, loops
- Henrik Mumm - bass guitars, cello
- Jürgen Treyz - guitars
- Konstanze Kulinsky - vocals, electric-acoustic hurdy-gurdy